The Airbnb story is one that resonates with any entrepreneur.
Back in 2007, the notion of letting people into your apartment or house, in order to rent a room – while you were there in another room was no easy sell. Y Combinator cofounder Paul Graham, was famously quoted as saying:
"Are people really going to do this? I would never do this."

Paul Graham, Y Combinator
A decade later and with over 7m Airbnb listings in over 100,000 cities and 16 million guest arrivals estimated for 2019, its fair to say quite a few people did.
So how did Airbnb scale from $20k in Y Combinator funding to a 1 billion+ valuation in mid-2011 – and what were the primary drivers? Was it, as the official Airbnb marketing team would have you believe, down to beautiful design and a team of photographers? Or were there other automations that Airbnb used?
Lets start by freeze-framing back to 2007. Keep in mind this was 2 years before Uber had even been founded and the sharing economy was in its absolute infancy.
Digital marketplaces sold products, not services. eBay was at its peak, with Amazon in the ascendancy. Marketplaces for services such as freelancer.com, Fiverr and Upwork would all only launch in the following 2-5 years. Craiglist and Gumtree were the basic, functional classifieds pages that attracted vast majority of free listings and dominated the market.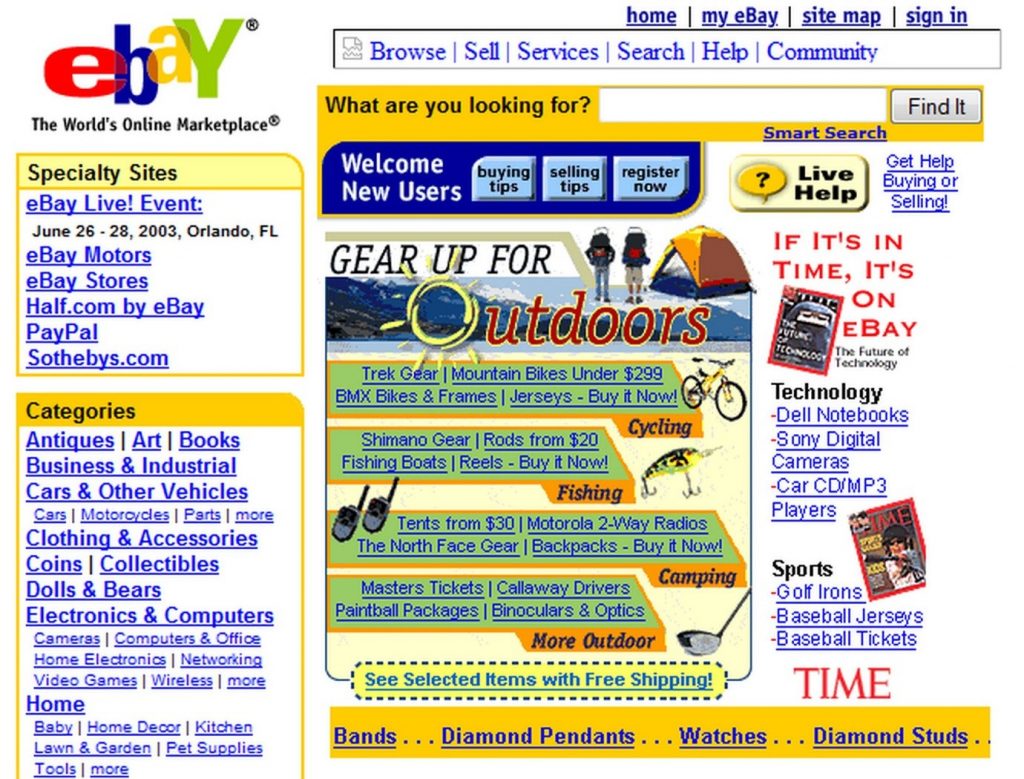 The times are, well, changing…
Against that backdrop a) Paul Graham wasn't wrong & b) the insurmountable scale of the task that lay ahead can be better compared.
Not only was the idea before its time, with questionable consumer trust for the sharing economy, Airbnb additionally faced the same challenges any marketplace faces; attracting listings and supply of product, in this case apartments to rent, while simultaneously trying to attract demand in the form of paying customers.
Airbnb recognised early on they had to scale the supply of accommodation they could offer through their website and quickly. Their main competitor on this front was Craigslist, the free classifieds site that has proved the inspiration for wave after wave of SaaS products.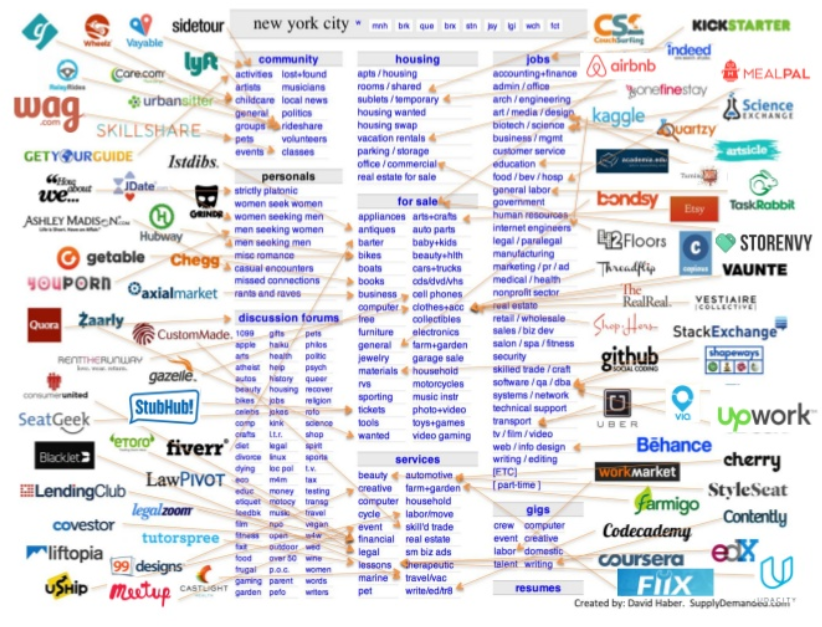 Back in 2017, almost none of those SaaS businesses existed and Craigslist was the go-to location for the exact customers Airbnb needed to grow their supply of apartments.
Their target was at least clear; how to capture the Craiglist supply of lettings, as well as the customer demand in bookings, at scale – particularly, with the limited man-power and resources that Airbnb had available to them in 2009.
Scalecut 1: Capturing Craigslist website traffic
They set up an infamous integration that allowed customers to create a Craigslist listing via the Airbnb website, with two key outcomes. Firstly, for the benefit of the customer, a more streamlined posting creation process via the more aesthetically pleasing Airbnb website. Secondly, for the benefit of Airbnb, a duplicate listing was created in Airbnb and the Craiglist listing actually linked back to this duplicate listing on Airbnb.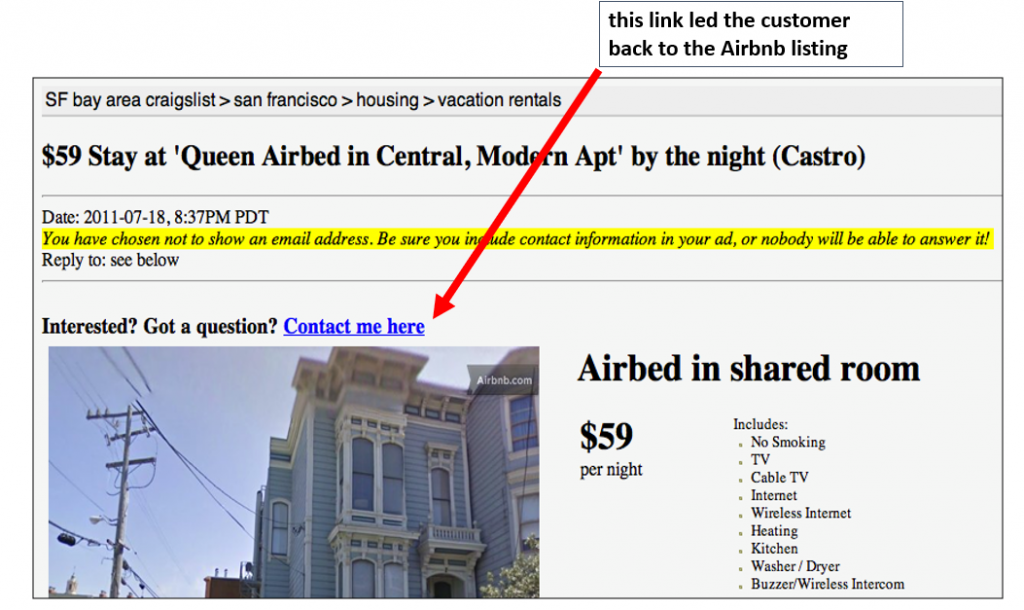 The effect? The vastly larger website traffic enjoyed by Craiglist began to filter through for Airbnb, sending customers to the Airbnb listing page, where the customer could complete the payment process and check-out.
This scalecut has been widely reported on and for more detail & screenshots, check out the great Quora post by Andrew Chen.
With growing website traffic though, Airbnb now had an even bigger challenge: how to grow supply of lettings and get Craigslisters to start listing their properties on Airbnb instead.
Scalecut 2: Converting Craigslisters to list on Airbnb
Data from Lean Analytics Book from Alastair Croll & Ben Yoskovitz shows a chart detailing bookings with Airbnb. If we look at the growth in bookings, there was a definite initial surge in listings which accelerated throughout 2010, so that by mid-2011 they were closing in on 1.6 million nights booked and a funding round that gave them a valuation of $1 billion+. An incredible achievement and one that reflected that trademark hockey stick inflection.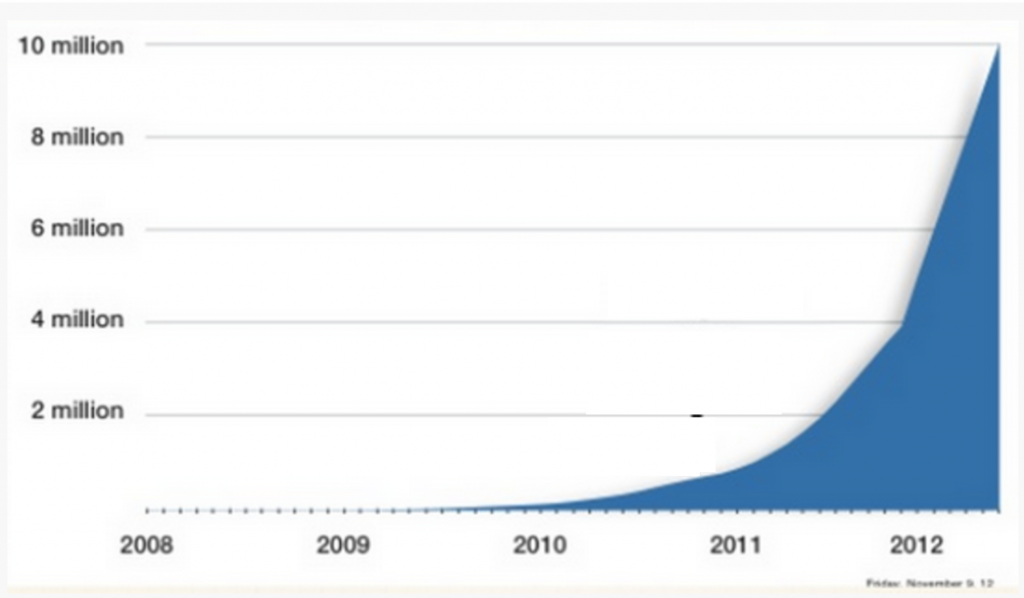 I edited the above chart – the original chart in the Lean Analytics Book is actually the one below that includes a time stamp at the inflection point that apparently results from Airbnb hiring 20 photographers.
This is referenced by Morgan Brown in his incredibly comprehensive write-up on Growthhackers and also supported by Brian Chesky himself on the Masters of Scale podcast with Reid Hoffmann. Listen to that episode here. Photography appears to be the official party line that Airbnb references as a key driver in achieving scale.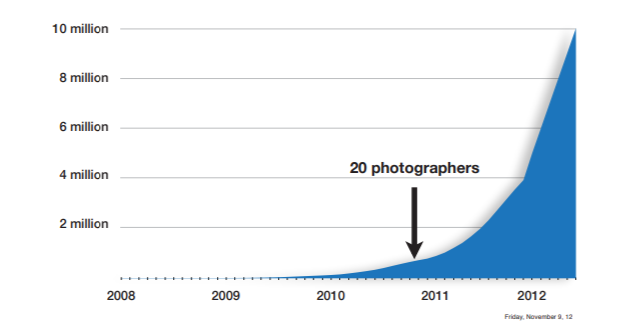 But 20 photographers?
An article in Fast Company by Nidhi Subaraman references this army of photographers as well and indicates that in late 2011, approx. 13,000 properties had been photographed. That in itself illustrates tremendous scale and growth, however, that's in late 2011 – bookings at that stage are hitting 4 million annually and they've already closed their massive funding round in July of that year.
So even though Brian Chesky emphasises this on the Masters of Scale podcast with Reid Hoffmann, that optimisation is unlikely to have helped them grow their supply. In fact, Ellie Thiele, the intern who managed Photography Operations at Airbnb, clarifies how manual and time-consuming the process was initially (detailed on the same Masters of Scale episode!).
So how did they grow supply so quickly? Doing some research, I came across Dave Gooden, a real estate entrepreneur in his own right, who broke down, a far more successful optimisation that may have driven Airbnb to achieve the scale they needed throughout 2010.
From the previous integration hack, it's clear the importance Airbnb placed on Craiglist listers. With the 1000's of listings accessible to it, Airbnb had a veritable goldmine of prospective booking nights. But to reach out to each Craigslister individually would have taken years.
Dave Gooden outlines an automation that involves scraping contact emails (at scale), from individual Craigslist posts and sending an outbound email solicitation that marketed Airbnb as a great additional vacation rental marketplace.
The email copy (as shown in the image below) is almost too elegant, particularly as its seemingly derived from a random female customer whose email is always a conveniently generic format; girlsname04@gmail.com. The email is short, well-written and with a clear value proposition related to the Airbnb website (3 million views monthly), as well as a subtle call-to-action (to feature it on Airbnb).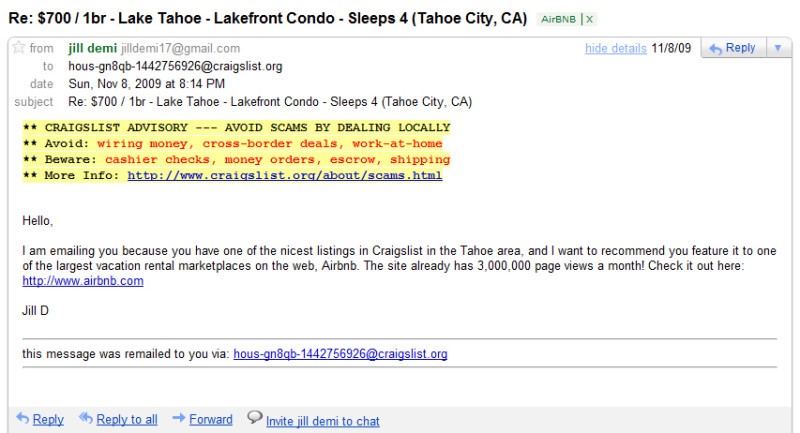 It's an ingenious scalecut that in all likelihood had a much greater impact on the trajectory of an early stage Airbnb, than the 20 photographers that are cited as a significant factor.
In fact, according to Dave Gooden's analysis at the time, he was able to emulate their approach and had over 1,000 vacation rental owners sign up to a test website he had created.
In conclusion…
These two automations meant that Airbnb saved thousands of hours of manual labour, and provided an elegantly, simple method of acquiring a target audience with minimal effort, time and cost once implemented.
Both scalecuts complemented each other, one driving growth in traffic of potential customers (demand), with the other capturing the supply of real estate – combining to create the perfect marketplace growth symphony.
Disclaimer: This is a tiny snapshot of the Airbnb journey. There were a million other areas they executed on, as well as likely benefitting from the perfect blend of timing & luck.
PS. If it ain't broke..
While I was researching for this article, I ended up on Craigslist to see how its postings functioned now. Interesting to note that not only is Craigslist surviving, its classifieds still attract other companies that are looking to entice Craigslist visitor / user traffic to their own websites.
The first listing showed that similar tactics used by Airbnb a decade ago are still evident: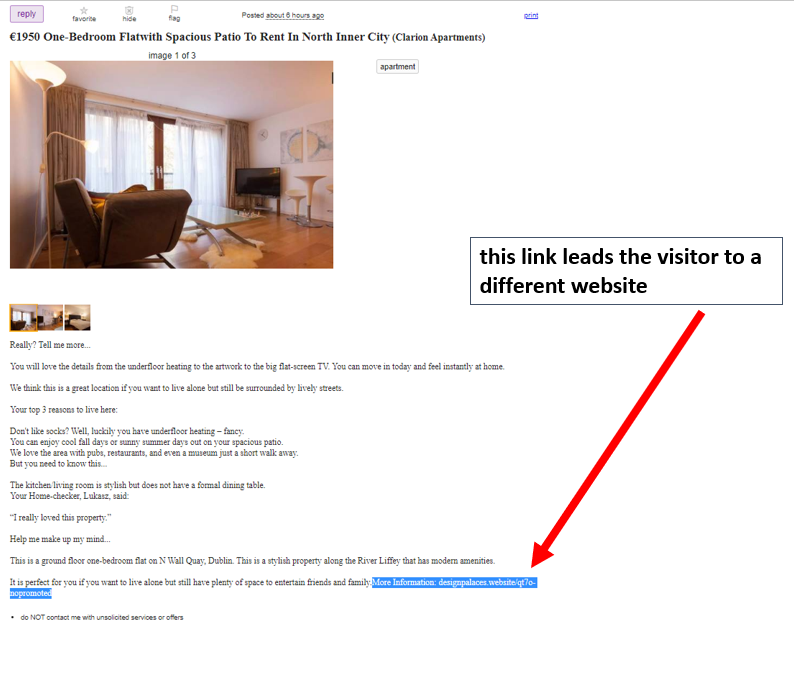 The website link is www.designpalaces.website/qt7o-nopromoted, which leads me to the exact same listing on www.spotahome.com! The url redirect (click here) even details the specific "utm_source" as Craigslist, indicating this is being utilised and tracked as a specific traffic source in much the same manner Airbnb pioneered! Click here.
The http://designpalaces.website/ itself is simply an undeveloped wordpress blog – that further indicates, its only reason for its existence is to provide the redirect functionality for Craigslist campaigns.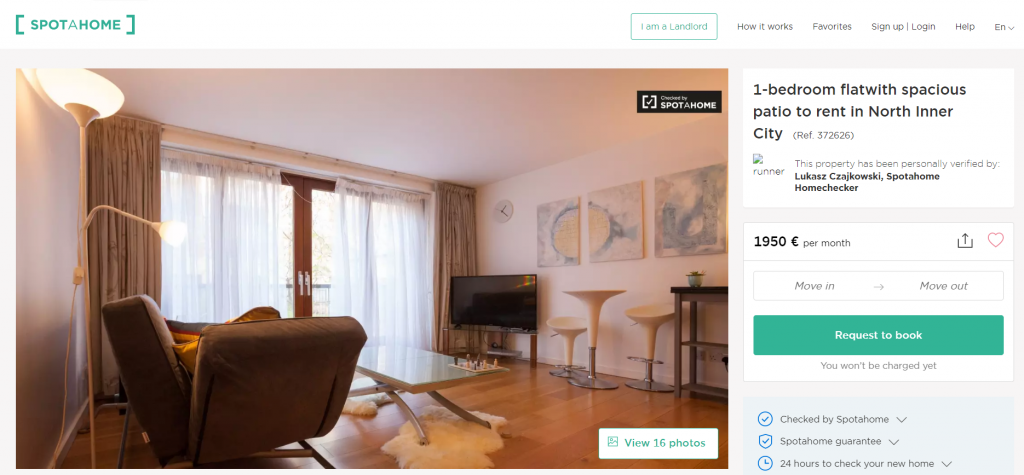 Goes to show. If a scalecut ain't broke and is still working a decade later… use it.
---
---