Web Summit kicked off in 2009 with a decidedly non-global feel to it. Firstly, it was called the "Dublin Tech Summit" and secondly, it had a journalistic / political focus to the discourse. This may have been a reflection of the founder, Paddy Cosgrave's own interests; his previous foray into the world of startups having been a political social network called MiCandidate (interestingly the other co-founder who was bought out, is a rather well-known chap called Oisin Hanrahan who went on to found Handy, sold to US Homeservices group).
It was by all accounts a smallish affair in 2009 with 150 odd in attendance, with journalists from The Independent, The Guardian and Sky News, as well as digital leaders for the European Parliament and Conservative Party acting as the main attractions for the event. It made a few online tech websites locally in Dublin, however, I remember hearing very little of it at the time in Dublin, although thankfully Silicon Republic was there to document it.
In 2010, attendance trebled. Perhaps, more impressively, the calibre of attendees included tech luminaries such as Niklas Zennstrom of Skype, Jack Dorsey of Twitter and Michael Birch founder of Bebo. This may have been the event that really illustrated the hustle that Web Summit cofounders Paddy Cosgrave, David Kelly and Daire Hickey rarely get credit for, and made waves for the Web Summit beyond just the Irish tech scene and front of mind to a global audience.
From 2011 on, the Web Summit experienced huge growth, doubling in attendance up to 2015 and since 2016 attracting over 60,000 attendees over a 3-4 day conference. It is without doubt an incredible success story that required exceptional hustle, leadership and execution on the part of the founding team, as well as the usual bit of luck and timing that create the recipe for this type of hockey stick trajectory.
Any other startup would get applauded for this type of growth, the creation of jobs, the attraction of tech leaders, the benefit to the economy. Web Summit's path has been more cobbled, punctuated by bad press and worse feelings, they faced accusations of being a scam, anger about their tactics and eventually relocated to Lisbon when relations with the government soured.
The Official Line
But lets focus on the positive. In particular, what tactics are responsible for this phenomenal growth. The official line purported by Web Summit:
Our growth has been largely propelled by data science. Or more correctly, in my view, network science. While conference companies hire event managers, we hire physicists with PhDs in areas like complex systems and network analysis.

Paddy Cosgrave, Interview published in Wired.co.uk
As with any great marketing team, they employed a snappy phrase alongside this and it's often referred back to in the marketing & corporate speak of the Web Summit: engineering serendipity
Beyond the Marketing Speak
Within a tech ecosystem that idolises AI & machine learning, every startup founder and their mother are talking about big data and algorithms.
However, if we're looking at what helped Web Summit scale, could network science really be the secret ingredient? It sounds like a similar PR line to Airbnb claiming it's growth lay on the back of employing additional photographers. Data science and algorithms start to make an impact when you have enough data points to feed the algorithm, before that its simply not a viable dataset.
Thinking back and reminiscing about the breakout years of Web Summit between 2012 -2016, the years they experienced explosive hockey stick growth from 4000 attendees to over 50,000 attendees, you'll usually get one recurring theme: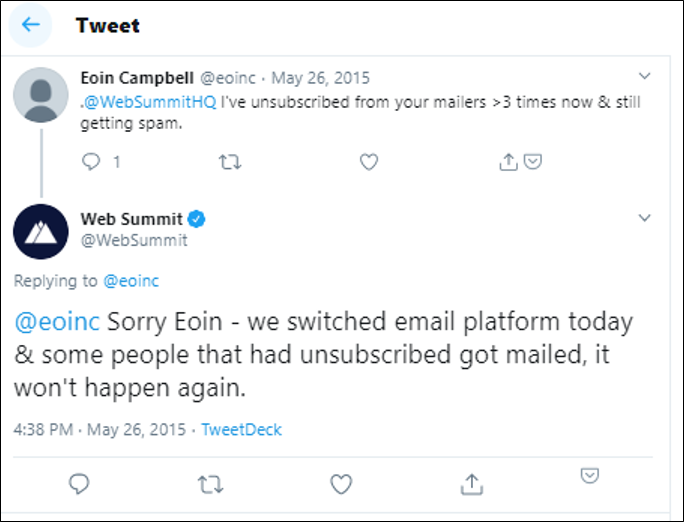 One thing that everybody remembers in the early days of the Web Summit, was the unrelenting stream of emails. What they did was email marketing on steroids. To incredible effect.
Email Marketing on Steroids
As with any high growth company, timing is incredibly important and Web Summit's timing in this respect was phenomenal. Interest in tech & startups (measured by Google Trends) was growing rapidly in their break-out years from their inception in 2010 to 2017 and it is perhaps this that swayed Web Summit away from the more political / journalistic focus of their earliest Summits to the full-on tech & startup vibe of their latter Summits.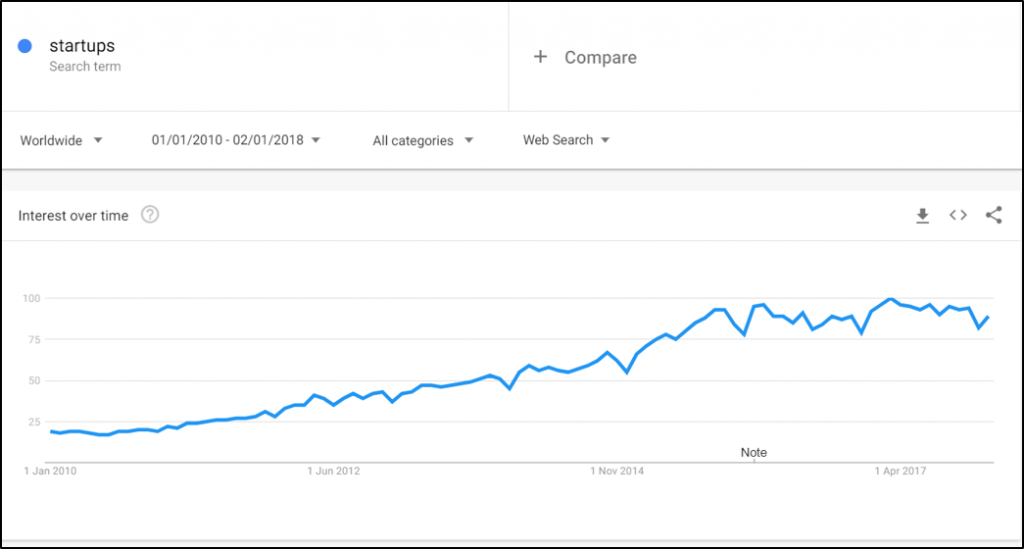 This rise in consumer and business interest in tech, meant Web Summit found themselves at a pivotal intersection, attracting corporate partners, investors, startups, startup employees, entrepreneurs, wantrepreneurs and anyone else you could think of. Everyone was able to fit into the scene in some way and everyone was eager to fit in, in any way.
However, Web Summit was likely facing serious growing pains and under resourced – one Irish job site seems to indicate that in late 2012, early 2013 there were only 35 employees at Web Summit. If true, that would have meant trying to sell thousands of tickets globally, while also recruiting speakers & startups, as well as hosting investors, in addition to all the intricate planning that goes into a world class event. In contrast, by 2015 that employee count was up to 83 according to Linkedin.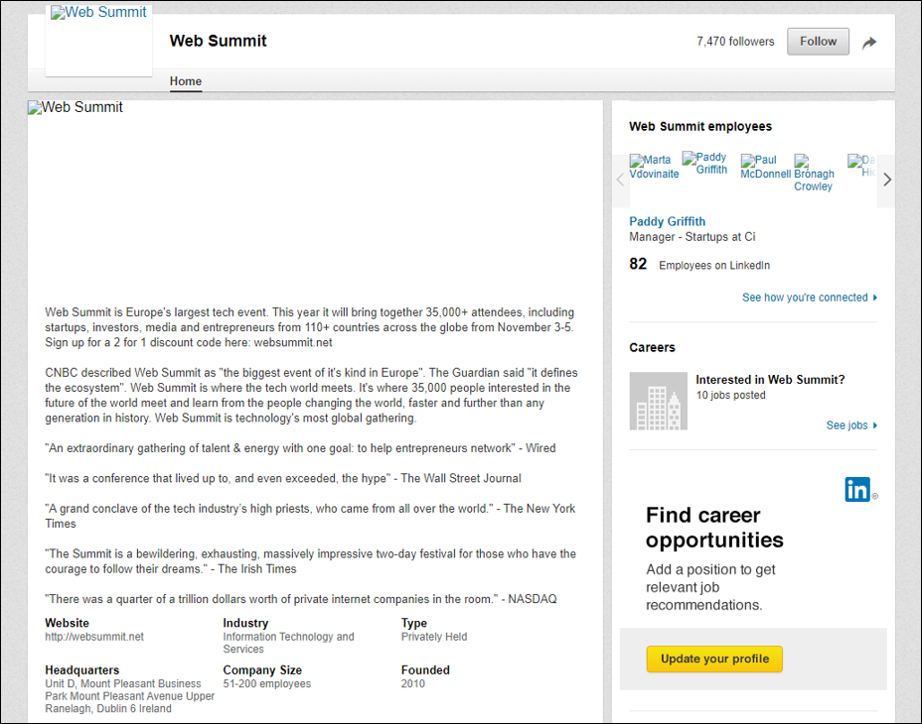 In order to make the most of their available resources and tap into the growing appetite for tech startup news and information, Web Summit had to automate and optimise their data capture and nurturing sequences.
The result: some of the most comprehensive and creative email marketing techniques – that pretty much set the standard for email marketing both at that time and since! It seems every type of email was created, tested, optimised, a/b tested, re-engineered until conversions were achieved. I should know – I was on the receiving end of 100's of these emails!
As one of the key focal points for the startup scene, Web Summit was able to grow their email list(s) exponentially – first in Ireland, then across Europe and the US, while all the time implementing landing pages for different segments to better personalise their following email interactions.
Amongst these emails, we had: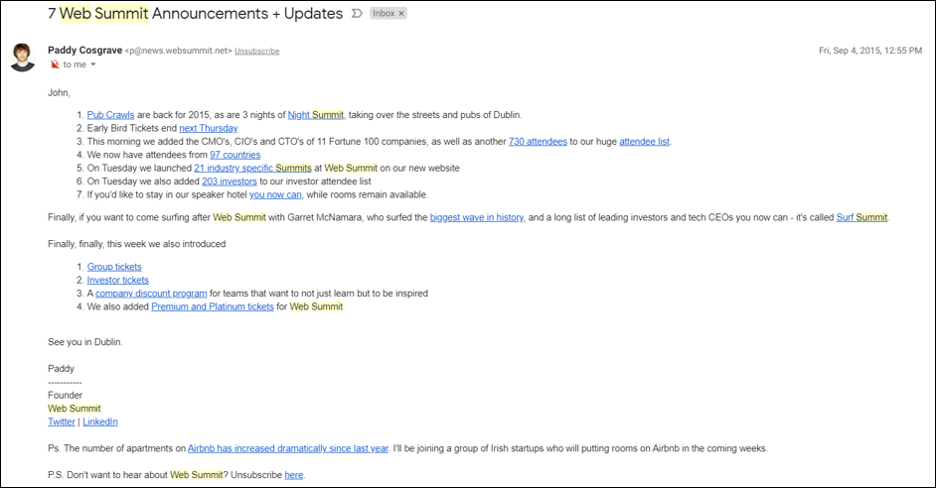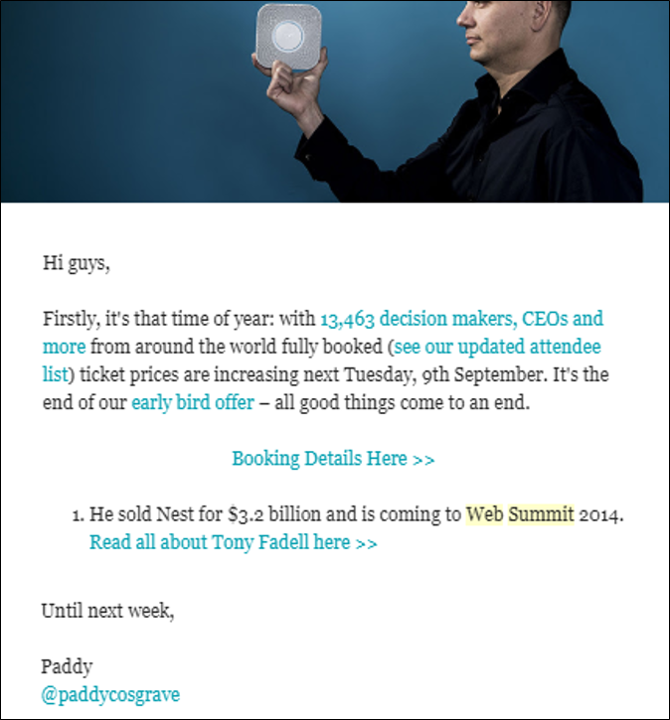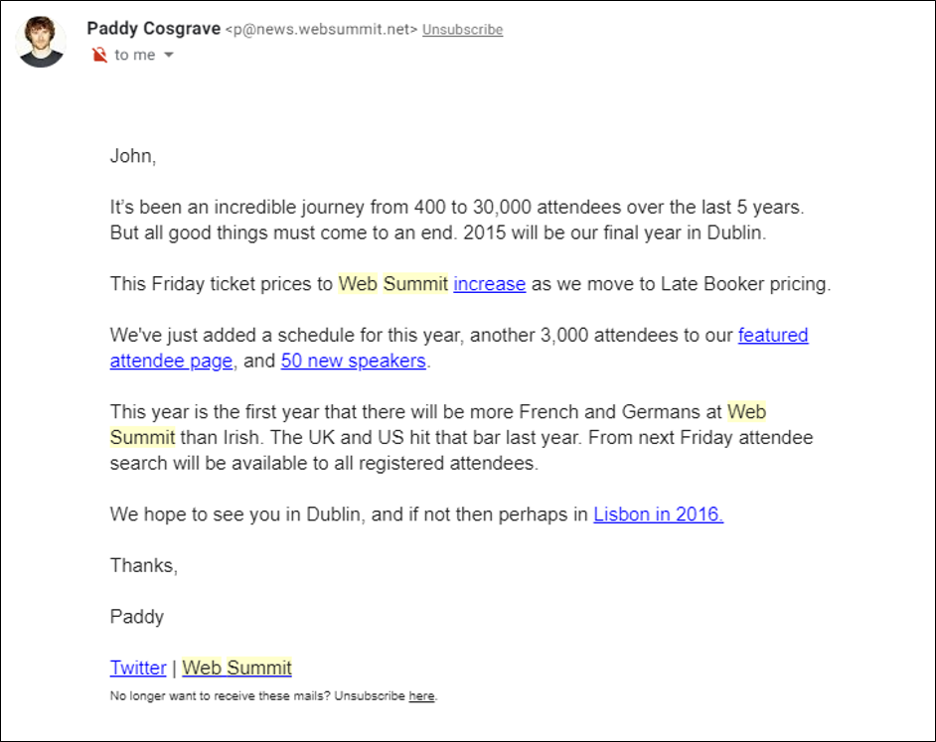 My personal favourite was when I received an email from him which had the obligatory "Sent from my iPhone" text, as if he himself had sent from his phone. Imagine my disappointment when I found out all of my friends subscribed to Web Summit had got the same.
In conclusion…
Particularly in the growth years of Web Summit, email marketing was a smart approach to driving growth. It allowed huge volumes of prospect interactions at minimal effort, that could be A/B tested to understand what drove conversions and ticket purchases most effectively.
Beyond that though, Web Summit thrived in large part because of the profile of Paddy Cosgrave and his willingness and appetite to embrace any & all exposure. Take for example the emails copied above, each of them was signed off by Paddy himself – he embraced and thrived as the high profile front man.
Did they overdo it with their tactics and persistence? Probably. The real question is, wouldn't any tech startup do the same if it kept bringing them high conversions and increasing sales?
Looking back through the emails I couldn't help but notice the number of different mail servers they used; potentially an indication that they had to continually revolve these as a result of, or to avoid, email sending bans: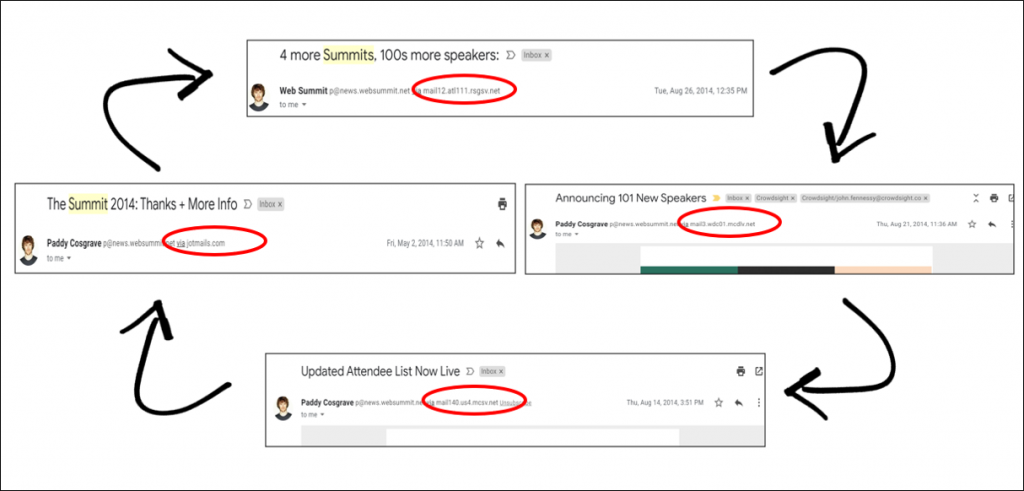 Additionally, its a real indication of the scrappines, hustle and lengths that they were willing to go to, in order to keep emailing and keep driving ticket purchases.
As is expected for a company that has reached greater maturity and scale, and now that Web Summit incorporates additional regional tech event behemoths in the form of RISE, Collision, Moneyconf etc, the volume and spamminess of the emails seems to have subsided, replaced in large part by a greater emphasis on relationships, quality, brand .. and network science.
This "network science" which represents the official marketing line, may now truly be in action, however, its pretty certain it wasn't the engine that helped them scale.
---
---