Indie-hacking is a relatively new concept, popularised in large part by www.indiehackers.com & its founder Courtland Allen. He founded the website with 150 personal emails to founders & entrepreneurs he admired, as a first foray into building a community of independent entrepreneurs – those founders who don't have or as is increasingly the case, don't want, investor funding. That community has now exceeded over 60,000 members and was further popularised when Stripe, seemingly out of the blue, acquired Indiehackers.
While Channing goes into more detail on the acquisition itself in this blog article here, it's pretty clear that he tapped into a movement that the Collison brothers were quick to recognise. It was aligned with their quoted mission of: increasing the GDP of the internet and resonated with the growing ease with which indie-hackers, solopreneurs and no-code creators are able to test, build and scale new web and software ideas.
I've been a member for some time and have read my fair share of incredible success stories on the site – founders going from 0 in revenue (and belief) to multiple 1,000s in monthly revenue. Overwhelmingly, the founders are technical, talented and ambitious and the community as a whole is very supportive and willing to provide guidance to new founders as they embark on their journey.
With that in mind, I've noticed a pattern. That of the technical founder who loves to create and then has limited experience in creating inbound or outbound engines to drive interested customers at scale.
Unlike venture funded companies who are able to hire experienced sales & account executives, alongside growth & content marketers, the essence of indie-hackers is to stay lean and target initial customers themselves. The result is that, in my opinion, good products can fizzle and die.
Worth noting – even in venture funded companies over-hiring in sales can be inadvisable as Harry Stebbings points out:
However, with Indiehackers in mind, the option to hire a salesperson, let alone a team of salespeople isn't there … so I developed a sales funnel that can help indie-hackers ramp up and automate much of their outbound efforts. The aim is to minimise the manual work that is so necessary in sales – particularly, conducting research on Linkedin, before copying and manually populating data in their CRM to create individual outreach emails.
This approach will hopefully allow indie-hackers to transform their funnel into an automated outbound engine:
Identifying your ideal customers on Linkedin
Automating the capture of your customer targets details from Linkedin to CRM
Populating the email address automatically
Automating the sending of a personalised outreach sequence
The intended result is for sole founders to be able to peruse Linkedin and with the click of a button, transform a Linkedin profile into an email being sent out.
I've detailed all the tools involved below (disclaimer: I have currently no affiliate or other relationship to these guys … unfortunately 😭)
Hubspot CRM – most CRM's will integrate with the marketing tools & connectors although I have to give Hubspot a massive shout-out for this fantastically simple, effective and FREE CRM.
Linkedhub.io – massively useful tool for capturing prospect info from Linkedin and creating new leads in your Hubspot CRM (automatically)
Mailshake – for sending email sequences. There are loads of tools you can use here, Sendy is also very good, I used Mailshake as I liked the LeadCatcher functionality
Zapier to automate triggers between applications when there's no native integration
GSuite – Google Emails & Google Sheets.
Now.. let's create an outbound sales funnel
Linkedin is our first port of call to create and build targeted lead lists. You don't absolutely need Linkedin Sales Navigator for the sales funnel I'm going to create below, as you can capture leads just from normal Linkedin search as well, however, it's really handy for volume searches and you can get a free month trial (you have to give your credit card, however, can cancel straight away and still get the free month!).
So assume we're looking to identify B2C companies actively involved in consumer goods & services with 500+ employees: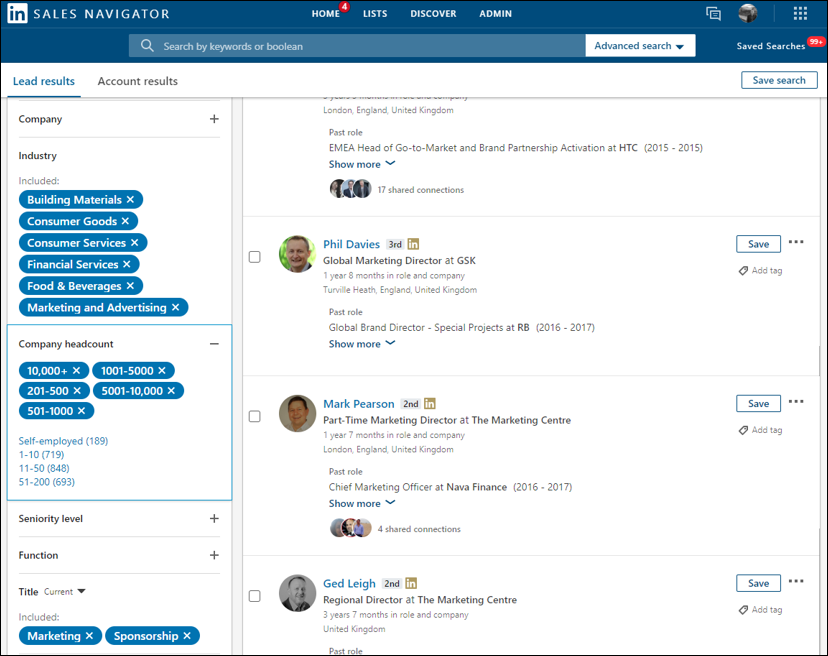 That gave us a very targeted lead list with about 2000+ prospects to begin targeting.
At this stage, we need a way to extract the individual profile data and populate the email address quickly, so we used Linkedhub.io – a fantastically useful chrome extension that allows you to extract the data from Linkedin profiles and add it to a Hubspot CRM.
Once you install it, you'll find a button hovering over the right side of your screen that when clicked automatically syncs the data from your Linkedin profile to your Hubspot CRM (this has to be linkedin via API key in the Linkedhub back-end).

To double-check its capturing accurately click on the "Properties" link and the profile capture box will open up to display the data. What's hugely valuable here as well is that Linkedhub has integrated with a large number of email finder services which can be toggled in the Linkedhub dashboard: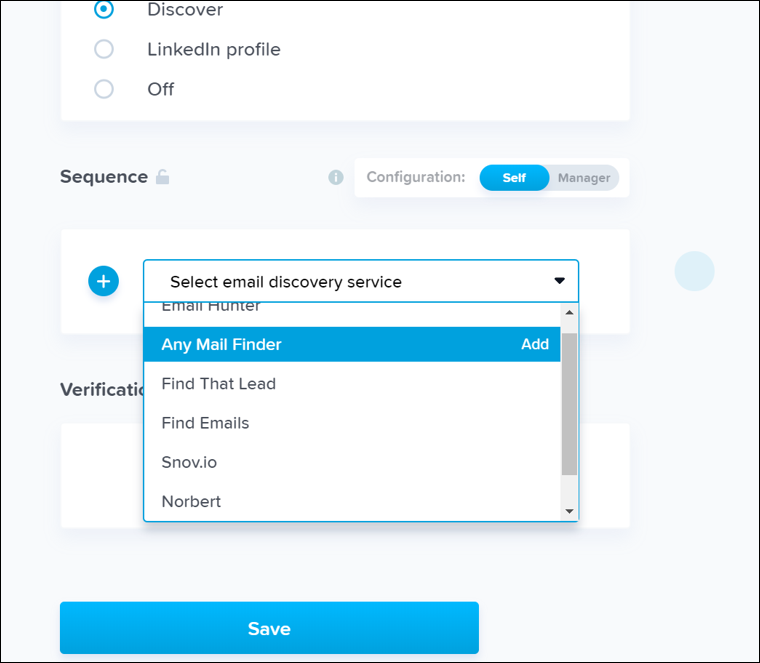 The result is that the email is often populated straight away so that it can be extracted into your Hubspot CRM.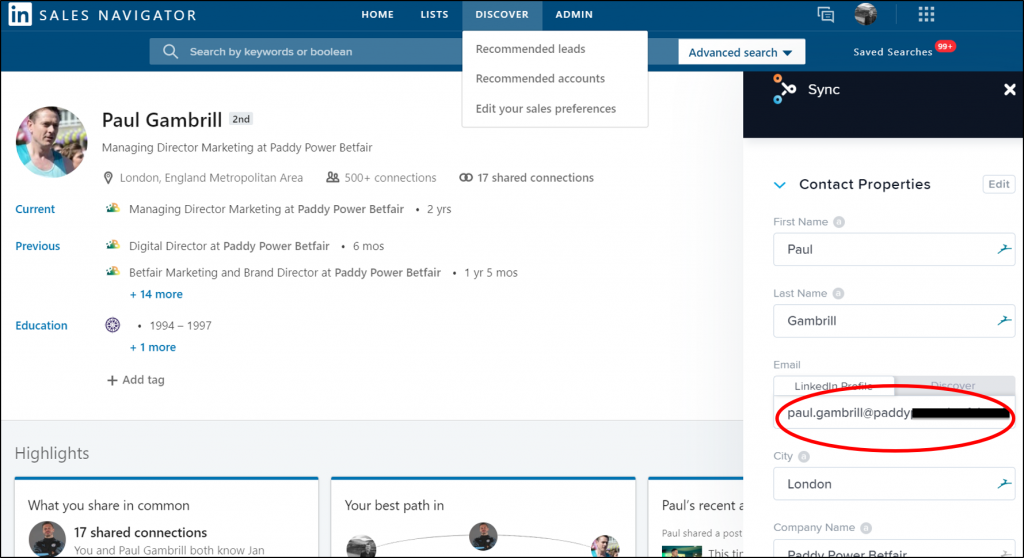 When synced to Hubspot, you can also add custom properties so that when the lead is created it automatically includes a trigger. In the below example, I added an email status "Send" which acts as a trigger.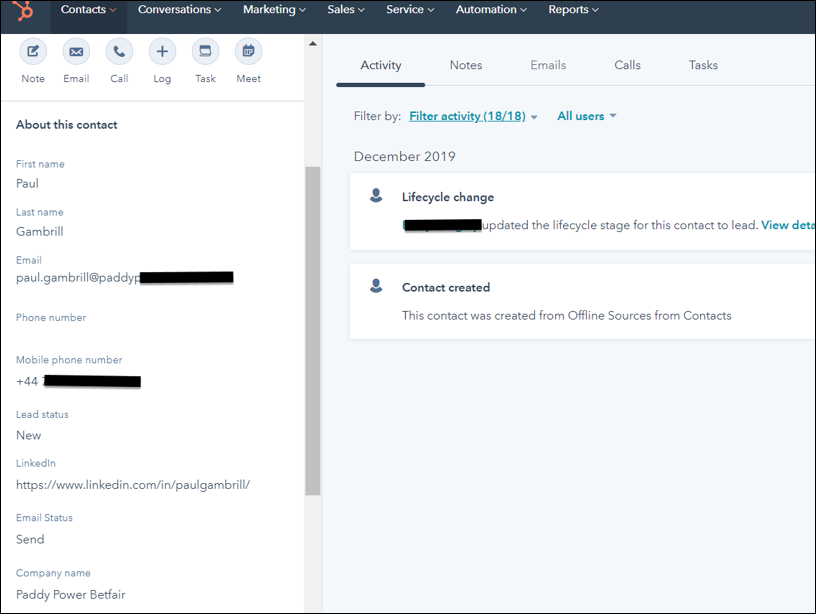 Previously I've found email discovery services to be very hit and miss, so an alternative to syncing direct to Hubspot would be to sync to a Google Sheet where a freelancer or junior SDR resource can populate the correct email via manual research. Once the freelancer has found the email, they could then change a column in the Google sheet to "send" which would then trigger the next step.
Whether you decide to use a Hubspot Contact Property or Google Column sheet, the premise remains the same. As soon as that Contact Property or Column is populated, we want to trigger the contact email address being added to a pre-created email outreach sequence in Mailshake.
We power that trigger using Zapier. Below is what we set up for a Hubspot contact property change (this zap only works when that specific property is changed):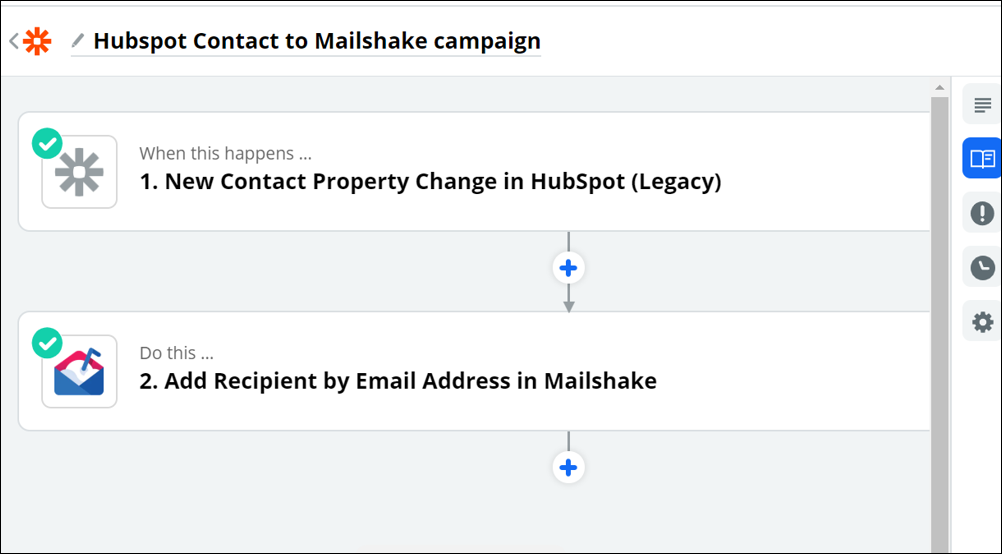 That trigger will then add the recipient into the required mailshake sequence as per the image below. I've blanked out the actual text of the emails, however, you can see its a three step sequence with an initial outreach email, a follow-up email and finally a so-called "break-up email":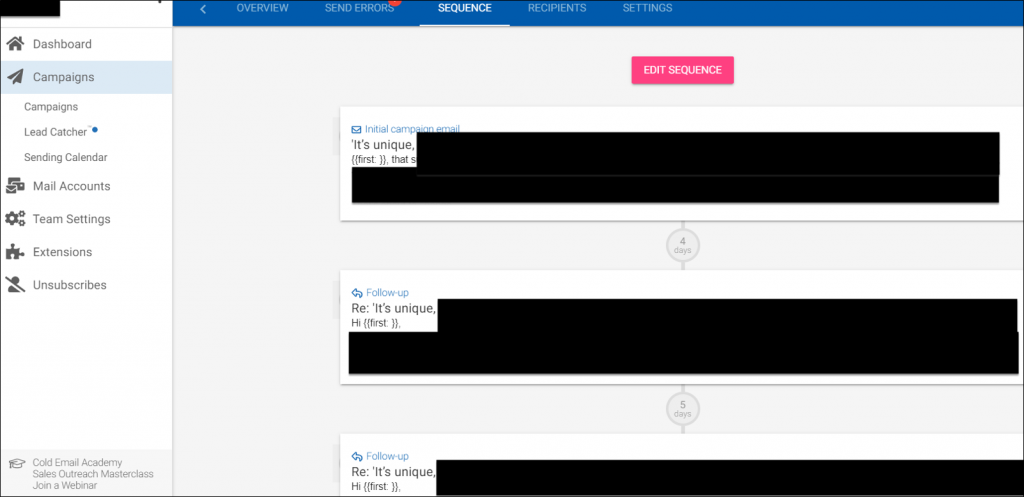 To effectively set up Mailshake, you should connect your Google inbox and this will allow you to send up to 2500 emails per day (with G Suite) or 500 a day with basic Gmail – which should be enough for any outbound campaign. Remember, you really don't want to spam people here – the more you target to specific buying persona's, the higher your response rate will be. A free alternative to Mailshake if you're sending 50 emails per day is Gmass, well worth checking out.
Mailshake is great as it has really easy to use sequencing functionality and the unenroll capability (when a user replies), is matched by its "Leadcatcher" tab that automatically pulls replies in.
The major benefit of that is it removes the need to trawl through hundreds of sent emails, out of offices etc that you would otherwise have to negotiate in your Gmail inbox and highlights those emails where a person has actually replied.
That's it..
This type of campaign sequence allows you to move from prospecting to outreach with minimal manual effort. While the amount of personalisation is minimal for each campaign, if you create a campaign specific to a prospect persona, then it allows you to keep your mailshake messaging relevant to those individuals.
Once set up, your outbound engine is on auto-pilot and you can focus only on those responses that are interested, having much more high value conversations with prospects that have expressed an interest.
Happy selling.
---
---